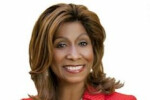 Join us for worship this Sunday, October 2nd, as Pastor Judy Shaw shares the Word in our three morning services. Pastor Judy always delivers a powerful message full of faith, hope, and encouragement. Don't miss it!
Services are at 8:30, 10:00, and 11:30 AM.
Children's Ministries and Nursery Care are available for infants and toddlers in all our weekend services and during Wednesday Family Life Night.