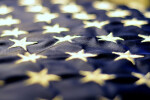 Join us for a special night of prayer for our nation! All are invited to pray for America and the upcoming elections.
NOTE: All adult classes (Cleansing Stream, In The Beginning, and Intercessory Prayer) are suspended for the night.
HTSM is also suspended for the night so that as many people as possible can join with us.
Children's Ministries will meet as scheduled on the lower level.
Come ready to call out to God for His mercies upon our land!