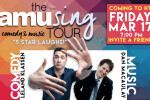 COMING to Harvest Time FRIDAY NIGHT, MARCH 17th:
Join us at 7 PM for a great night of music and comedy as Dan Macaulay and Leland Klassen present "The AMUsing Tour!"
It's been called "a fantastic mix of comedy & music," "a perfect blend of the sacred & the silly," and "an amazing night of laughter and evangelism." The AMUsing Tour with Leland Klassen & Dan Macaulay will be a night the whole church will love!
Over the last 16 years Leland Klassen has become recognized as Canada's premier clean comedian. Using his farm boy charm, his clever observations and rich life experiences are brought to life in a one-of-a-kind show.
Acclaimed worship leader, Dan Macaulay, has a unique ability to get a room singing along. Many of his songs are sung and played in churches around the world. Mix in some fun musical medley sing-along and improv for a great night!
There's no charge for admission; a free will offering will be taken. Don't miss it!