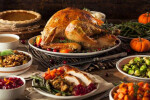 Thanksgiving is almost here... worship, celebrate, and give thanks with us!
Saturday, November 19th – 11:00 AM: Turkeys in Manhattan
Harvest Time will again be teaming up with Trinity Church in Manhattan to deliver turkey baskets on the Saturday before Thanksgiving. If you would like to contribute towards a turkey, please email: .
---
Sunday, November 20th – 7:00 PM: Young Adults Dinner
Did you know our young adults group is having a Thanksgiving potluck dinner on November 20th at 7pm? All college students and those in their 20s and 30s are welcome! RSVP to and let us know what you'll bring. We'd love to see you there!
---
Tuesday, November 22nd – 7:00 PM: Thanksgiving Service
It's our annual "Thanksgiving Eve Eve Service!"
Join us for a special service of worship, thanksgiving, and testimonies – always one of the highlights of the season! Come and share what great things the Lord has done for you during 2016! Childcare is available for children under Kindergarten age.
---
Cancellations During Thanksgiving Week
Please note that our regular Wednesday programs for kids, teens, and adults will not be meeting on Wednesday the 23rd. The Church Office will not be open on Thursday the 24th or Friday the 25th.
Prime Time will not meet on Friday the 25th.