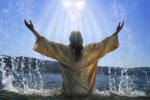 Don't forget our Water Baptism Service on Sunday, July 9th at 4:00 pm in Ossining.
For all those wishing to be baptized, there will be a mandatory, brief class on the morning of the 9th at 10:30 AM.
For more information and to register, please click here!
We urge everyone who has not been baptized in water to follow the Lord in this important step of faith!