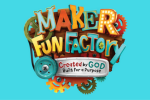 Vacation Bible School '17!

Sunday, June 25th – Thursday, June 29th
6:30 – 9:00 PM
For Children Age 4 – Grade 6

*Note: Children must be at least four years old before VBS week.
Enjoy Bible Discovery, sciency fun at the Imagination Station, delicious treats at the Snack Factory, cool music at the Sound Wave Sing & Play, as well as exciting Game Makers! Grab your friends and join us at Maker Fun Factory VBS 2017!
EARLY BIRD REGISTRATION... only $20 if you register no later than Wednesday the 21st!
VOLUNTEERS: don't forget the mandatory training meeting on Wednesday the 21st, at 7 PM.
Note: By registering your child, you are giving Harvest Time Church permission to use any and all photographs and video footage that may include your child for publications, printed or recorded, or on electronic media without prior notification or royalties. Thank-you!