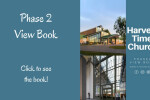 Our Phase 2 VIEW BOOK is now available to view online!
Just click here to see it now!
The View Book shows you some of the finishes, furnishings and fixtures that our design team has selected for Phase 2. We hope you like them! On September 24, there will be an opportunity to contribute toward these items at an Open House. You may wish to donate them in honor of someone. Donation plaques may be affixed at your request.
If you can't join us on the 24th, you may donate items using the Furniture Donation Form at the back of the View Book, or simply give through our online giving system.
Thanks for standing with us in your prayers and in your giving for Phase 2!