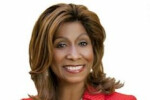 Join us Wednesday, July 5th as we welcome Pastor Judy Shaw to our first summer "Let It Flow" service!
Pastor Judy is the founder and Senior Pastor of Center of Life Church in Sioux Falls, South Dakota. She always delivers a powerful message full of faith, hope, and encouragement.
Don't miss a great night of ministry and the Word!