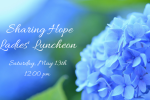 On May 13th, all ladies are invited to a special luncheon to raise awareness for rescuing trafficked women around the world. We'll be privileged to welcome as our speaker Dr. Beth Grant, cofounder and director of Project Rescue, a ministry to survivors of slavery and trafficking.
Dr. Grant is an internationally-known leader who has authored a number of timely books and who also served as the first female Executive Presbyter of the Assemblies of God (USA). She and her husband, Dr. David Grant, have a powerful vision to see a million daughters and sons rescued.
Don't miss this compelling time of fellowship – click here to register and obtain tickets today!
Tickets: The cost per ticket is $40.00 until Monday, May 8, 2017.
Location: Stamford Hilton Hotel, 1 First Stamford Place, Stamford, CT