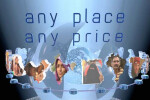 Join us on Friday, November 11th as we kick off our Annual Missions Convention with our International Appetizer Event!
It's going to be a great night of fellowship and vision for Missions!
We need YOUR delicious appetizers, representing your heritage, for this special evening. If your last name begins with the letters A-Q, please bring an appetizer; if your name starts with the letters R-Z, kindly bring a dessert. Your appetizer or dessert should be bite-sized and reflect your ethnic or cultural heritage. Let's bless each other with treats from around the world!
RSVP and tell us you're coming and what you're bringing!
Also on that night:
• Laura Fazio will be sharing as she prepares to get ready to head to Sicily on a short term missions.
• We'll enjoy a video presentation from the Nepal missions trip and hear some testimonies testimonies.
• The Teen Challenge Choir will be visiting with us, too!
• Our very own Pastor Kimmie's sister, Katie Martinello, will be having a Kids Missions Program.
This is only the start of a great Missions Weekend - make sure you're with us in the services of that weekend!