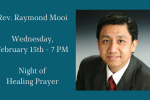 Join us this Wednesday evening for a special healing service with our good friend, Pastor Raymond Mooi! Come believing God for miracles!
• All adults and teens are encouraged to attend!
• The Alpha Course and Financial Peace University will meet as scheduled.
• The Genesis Bible Study with Pastor Nick will not be meeting.