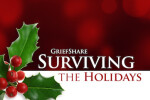 THIS SUNDAY... Grieving? Know someone who is?
When you're grieving the death of a loved one, the holiday season can be especially painful. Our "Surviving The Holidays" seminar helps participants prepare for the holidays and even discover hope for the future.
Be with us this Sunday, the 20th, at 3 PM on the Lower Level.