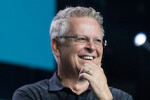 Video and audio is now available from our recent Empowered Conference with Dr. Randy Clark and the team from Global Awakening!
Video files can be watched on our YouTube channel in this special playlist.
Audio files are available under Sermons, here on our site.
You can also purchase audio CD's at $5.00 each, or obtain an entire set of 14 CD's for $30. Contact the Church Office for details.