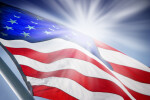 On Saturday, November 5th, as the elections approach, we will "Blow the trumpet; consecrate a fast; call a solemn assembly, and gather the people." (Joel 2:15-16)
From 6 AM - 6 PM we will be in the Missions Room with one voice crying out for our Nation.
You can come and go as you please; however, we encourage you to sacrifice time to enter the throne room of God on behalf of our Nation. We do not accomplish much by talking about "America being in great trouble" unless we come before the One who rules over America and move Him to compassion and mercy!
Kindly respond to Pastor Ruth Diaz if you are attending.