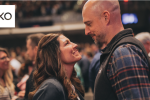 XO 2019 is almost here!
Join Jimmy and Karen Evans along with their friends Dave & Ashley Willis, Tim Ross, Les Parrott, and more for a marriage conference unlike any other. Thousands will gather for this one of a kind conference designed to revive romance and bring you closer together.
Harvest Time is pleased once again this year to offer this powerful and life-changing simulcast! Click to register now:
Main Sessions:
Friday, February 8
7:00 pm – Dinner
8:00 pm - Simulcast
Saturday, February 9
9:30 am - Continental Breakfast
10:00 am - Simulcast
Cost: $35.00 per person, $70.00 per couple.
Child registration is $10.00.
SPECIAL DAYTIME BONUS SESSIONS are available to you on Friday from 10:30 AM to 3:30 PM!