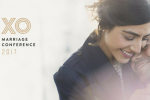 More than just a marriage conference. MarriageToday and Gateway Church come together to bring you the largest marriage conference ever, XO 2017. Join Jimmy and Karen Evans along with their friends John Gray and Allan Kelsey for a weekend of romance designed to bring you closer together.
Harvest Time is pleased once again this year to offer this powerful and life-changing simulcast! Click here to register now!
No matter where you are on the journey of marriage, come and encounter God's dream for your future. The same God who supernaturally bound you together in the covenant of marriage is longing to help turn your relationship into the love affair He wants it to be.