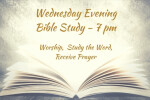 On Wednesday nights there's now a time of worship, digging into God's Word, and the opportunity for you to receive personal ministry in the new, Phase 2 Sanctuary.
Our current study is called Prophets & Kings, a verse-by-verse exploration of 1st and 2nd Samuel, taught by Pastor Nick. Explore the lives of famous leaders like Samuel, and David. It's all about life lessons, leadership, and loving God.
The Fresh Look course is also meeting starting this Wednesday, April 11th, in the Missions Room on the Lower Level. This is a great survey of the Christian faith specifically targeted to newer believers and seekers. See you then!