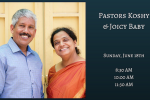 This Sunday, June 18th, we're happy to welcome our friend, Pastor Koshy Baby, his wife, Joicy, and their son, Alan!
Pastor Koshy will be ministering in all three of our Sunday morning services.
He is the senior pastor of Carmel Community Church in New Delhi and president of Carmel Ministries. Don't miss their ministry this Sunday!