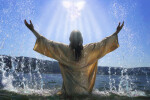 Our next water baptism service will be Wednesday, July 27th, during our Wednesday Night Worship Service.
For all those wishing to be baptized, there will be a short class on Sunday, July 24th at 10:00 AM downstairs in the Music Room (Room 206).
To RSVP, please click this link: https://bit.ly/HTBap-Jul22
Feel free to call the Church Office for additional information at (203) 531-7778.