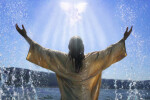 Our next water baptism service will be Sunday, August 30, 2020 in Ossining, New York. We will be baptizing people beginning at 4 PM. If you are planning to be baptized, please attend the baptism class which is taking place that morning, Sunday, August 30 at 10:30 AM on the Lower Level.

You can click here to RSVP: https://bit.ly/HTCBaptismAug20

Feel free to call the Church Office for additional information at (203) 531-7778.
Please note that we will observe the applicable rules issued by New York State concerning social distancing for this event. These include:
A limitation of 50 people present at a time. If more than 50 people are present, we may ask you to briefly wait until we can minister to you.

Masks and face coverings must be utilized within six feet of other persons.

We are also not allowed to hold hands or shake hands with anyone who is not in our household.