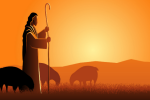 Christ is a Savior, Friend, Warrior, King, and Guide for His people!
Monday evenings at 8 PM, join Pastor Nick on a journey through the Book of Psalms and let's explore the many facets of God's love for us.
To join with us, visit our YouTube channel at http://www.htchurch.tv. Or, from this website, just click the "Watch" link above. If you've signed up to get notifications from our channel, you'll be notified when we go live.
Let's enjoy the Word together this Monday evening!