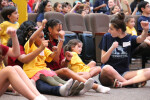 WE WANT YOU for this year's Vacation Bible School Staff!
The dates and times are Sunday, June 25 - Thursday, June 29, 6:30 pm - 9:00 pm each evening.
VBS is loads of fun and a great opportunity to make new friends and change a child's life. Use this link and get in on the fun!
https://bit.ly/HTC-VBSVols2023
(Please note: at Harvest Time, safety is a priority. ALL volunteers must be Regular Attenders of Harvest Time Church, attend a Mandatory Training, and pass a Background Check.)