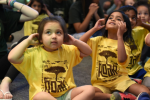 Vacation Bible School '20 - Save The Date!


DATES: Sunday, June 28th – Thursday, July 2rd
TIME: 6:30 – 9:00 pm, each evening
AGES: Children Ages 4 – Grade 6
CUT-OFF: Children must be at least four years old before VBS week.

REGISTRATION COST: TBD

PHOTO & VIDEO PERMISSIONS:
By registering your child, you are granting Harvest Time Church permission to use any and all photographs and video footage that may include you or your child for publications, printed or recorded, or on electronic media without prior notification or royalties. Thank-you!