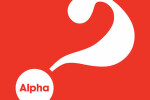 Click here to register for the Fall 2018 Alpha Course!
The Alpha Course is for people interested in finding out more about the Christian faith. It's the most popular course of its kind in the world, and has been translated into over 100 languages! Topics include:
Who is Jesus?
Why Did Jesus Die?, and
Does God Heal Today?
On Alpha nights, we enjoy coffee and dessert together, then share a brief presentation. A short time of discussion follows each talk. Alpha is a great place to explore and to ask questions in a friendly and non-judgmental environment.
This Fall, Alpha will meet from 7:00 to 8:30 p.m. on Wednesdays beginning September 12th.
There is no registration fee for Alpha; coffee and dessert will also be offered free of charge each week.
Interested in attending the Alpha Course, or maybe helping out on one?
Click above to register, or for additional information, contact the church office at (203) 531-7778.