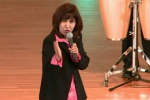 On Wednesday evenings this summer, the oil is in our house!
Join us for worship and the Word this summer as enjoy speakers from within our Harvest Time family! Every week you'll be blessed in God's presence... make it a point to join us!
On Wednesday, July 11, we are pleased to welcome Pastor Melanie Marza, the pastor of Iglesia Tiempo de Cosecha, our Spanish congregation, to minister to us. Don't miss an exciting evening in the Lord!