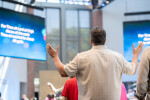 March 12, 2020
Dear HTC Family,
Due to an executive order issued today by Connecticut Governor Lamont, this Friday's worship night with Big Daddy Weave and The McClures has been RESCHEDULED for Saturday, August 8, 2020. Save your tickets and they will be honored on that date.
As the executive order specifically protects religious services, we will meet for worship this Sunday at 9 AM and 11 AM. Children's ministries and Sunday Life Groups will meet as usual.
We are deeply grateful to our members, Steve Anello and Lou Bastone, owners of Viking Pure Solutions. Steve and Lou have donated and installed at HTC a unit that produces sanitation and cleaning solutions right on site. Due to their generosity, HTC is able to produce as much cleaning product as we need during this public health event. Steve and Lou have also donated a cleaning apparatus that is capable of sanitizing all soft and hard surfaces in our facility. As a precaution, we are sanitizing our entire facility before and after each use.
This Sunday, Steve and Lou will be sharing about this technology between our two worship services, from 10:30-11:00 AM. If you are interested in learning more, please join us in the sanctuary then.
If you fall into the "at risk" category and wish to remain home, we will be streaming our 11:00 AM service as always. You can connect to the service at www.htchurchlive.com.
We encourage everyone in our HTC family to use wisdom regarding your personal health decisions, be courteous of others, and remain prayerful in this unprecedented season.
In his love,
Pastor Glenn