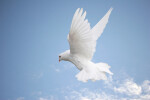 A SPECIAL WEEKEND
Join us as we celebrate the coming of the Holy Spirit and seek His Power and Presence! In addition to our Sunday morning services at 9 AM and 11 AM, special events are planned, starting this Friday evening.
SHAVUOT: FRIDAY AT 7 PM
You're invited to worship with us on Friday, May 18th at 7 PM as Messiah's House celebrates Shavuot (Pentecost). This evening will feature a book signing by Grant Berry as he releases his newest book, Romans 911. Messianic TV and radio host Sid Roth says about Grant's book, "This is God's time to favor Israel. This is God's time to evangelize Israel. This book will help the Believing Jew and Believing Gentile be one –– so the world will believe!" Don't miss a great night together, this Friday!
SUNDAY EVENING, 7 PM
Join us on the night of May 20th for a special joint service between Harvest Time and Messiah's House! This special Pentecost Sunday service will feature anointed worship and a special emphasis on the Holy Spirit –– don't miss it!