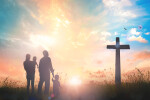 Join us for worship this weekend, as our services will center on family – both your family and the Family of God!

Be with us at 9 AM and 11 AM this Sunday – it's going to be
a great day of worship, family fun, games, and sharing a great message.

Families everywhere are rediscovering what the experts are saying: attending church as a family yields tremendous benefits:

• Regular churchgoers live longer (U. of Iowa 12-year study tracking mortality)

• Frequent churchgoers are happier (Pew Research Center)

• Couples who attend church together report being happier and are less likely to divorce (Center For Marriage & Families)

• Young children of churchgoers parents do better behaviorally, emotionally and cognitively than kids of parents who never attend church (data from the nationwide Early Childhood Longitudinal Study).

See you Sunday!