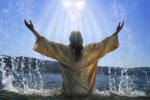 Our next water baptism will be Sunday, June 9th, 2019. We will be baptizing people in water during our 9 AM and 11 AM services.
If you are planning to be baptized please, please attend the baptism class which is taking place the previous Sunday, June 2nd at 10:30 AM on the Lower Level.
Feel free to call the Church Office for additional information at (203) 531-7778.