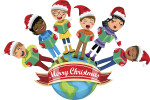 Click here to register now for this year's Children's Christmas Choir!
All children in Kindergarten through the 5th Grade are welcome and encouraged to participate!
Practices will be held on Thursday evenings from 7 PM - 8 PM in Room #206 on the Lower Level of Phase 2.
This year, our Children's Choir will be singing during the 4:30 PM Christmas Eve Service.
Other information will be given out during weekly rehearsals.