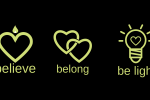 This fall, we're launching a new ministry at HTC:
Discovery Track is a four-week course designed to introduce new people to HTC, and help them find their place in our body. Unlike past membership classes, Discovery Track contains a segment that helps believers identify their spiritual gifts and find a place in the body to express them.
During the month of September, would you be our "guinea pigs?" We're asking you to experience Discovery Track and give us your helpful input. The Discovery Track preview will be offered on four Wednesday evenings, beginning September 11 at 7:00 PM; or four Sunday mornings, beginning September 15 at 9:30 AM.
Once the Discovery Track preview is complete, we will launch new Growth Groups in October designed to help us grow in our relationships with the Lord, and with one another. We hope you will join a group.
If you have not yet signed up for Discovery Track, click here to sign up for the Wednesday evening sessions, or click here to sign up for the Sunday morning sessions.