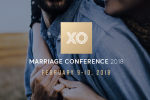 XO 2018 is coming! Join Jimmy and Karen Evans along with their friends Max Lucado, Craig Groeschel, Tim Ross and Jefferson Bethke this Valentine's weekend for a marriage conference unlike any other. Thousands will gather for this one of a kind conference designed to revive romance and bring you closer together.
Harvest Time is pleased once again this year to offer this powerful and life-changing simulcast! Click here to register now!
Main Sessions:
Friday, February 9
7:00 pm – Dinner
8:00 pm - Simulcast
Saturday, February 10
9:00 am - Continental Breakfast
10:00 am - Simulcast
Cost: $30.00 per person, $60.00 per couple
Bonus Sessions: This year we are also offering the Friday, daytime sessions
at no extra charge: 10:30 am - 1:00 pm, and 2:30 pm - 5:00 pm.
Come and encounter God's dream for your future. The same God who supernaturally bound you together in the covenant of marriage is longing to help turn your relationship into the love affair He wants it to be.