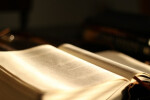 In 2022, we'll be reading through the Bible together as a congregation! Beginning January 1st, we invite you and your friends to join us as we read through the Bible, following a simple, shared plan. Every day, we'll enjoy readings from both Testaments of the Bible, the Psalms, and the Proverbs. We'll also share a brief devotional authored by HTC members!

Here's how you can participate:

First, join this special Facebook Group we've set up for the Bible Reading Plan and discussion: https://www.facebook.com/groups/htcbiblereading

Then, sign up to get the daily devotionals in your email. Click here to sign up:
http://eepurl.com/hleXzz.

We'll also send out posts on our church Instagram account at
https://www.instagram.com/htchurch

Learn how to get the daily Bible readings online by visiting https://oneyearbibleonline.com/. Once there, you can find readings for each day of the year in a Bible version you prefer.
Want to print the schedule or save it to your computer or mobile device? Here's a PDF copy of the entire plan for the year.

Get ready for a year of growth as we dig into the Word together! This Bible reading initiative is open to any and all who may wish to join us. Share this with your friends, and pray with us that it will bear much fruit!