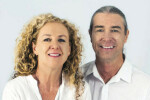 Harvest Time is pleased to welcome back our friend, Pastor Phil Mason, this Sunday to minister! Phil is an innovative thinker who teaches extensively on the supernatural transformation of our hearts by God.
The author of several books, Phil and his wife Maria pioneered the Tribe in 1998 in Byron Bay, Australia. They are also the directors of Naioth College, a supernatural Kingdom Ministry Training school.
Don't miss a powerful time in God's presence this Sunday!