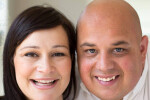 We continue our Let It Flow meetings on the evening of the 19th with Pastor James Levesque!
James and his wife Debbie lead Engaging Heaven Church in New London, Connecticut, a church which has become a worship and revival center for Eastern Connecticut. James is a pastor, preacher, and revivalist who believes in both proclaiming and demonstrating the Gospel of Christ. He believes that this is the appointed season for awakening in New England, and that by God's power many in our region will be saved, healed, and delivered.
Make sure you don't miss this great night of Holy Spirit outpouring together!