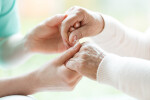 Coming up on two Saturdays in December, take an opportunity to join us as we minister at local Nursing Homes.
Greenwich Woods Health Care Center – Dec. 14 from 10:30-11:30 am.
Meet at Greenwich Woods at 10:15 am sharp (1165 King St, Greenwich, CT). This outreach will be led by our HT Kidz choir. But we also need adult volunteers to minister to the residents.
Nathaniel Witherell - Dec. 21 from 10:00-11:00 am.
Meet at Nathaniel Witherell at 9:45 am sharp (70 Parsonage Rd, Greenwich, CT). Adult volunteers only. We will be ministering to Alzheimer's and Dementia patients.
For more information, please contact Ralph Quisumbing.