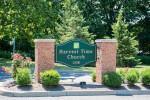 This month, we're looking forward to offering a full menu of ministries for children, teens, adults, and seniors. In addition to the safety measures we've implemented for Sunday services, we'll introduce enhanced safety measures for on-campus ministry to kids and teens. We hope to see you on campus again soon!
This coming Sunday, we're excited to begin a new season in HTC worship. Our friends Scott & Katie Troyer will make their public debut in their new role as our Worship Team Coaches. They'll be working with the worship and production teams on a weekly basis, to help invest in the next generation of worship ministers at HTC. Our friend, Annika Tilly, will also make her debut as our Worship and Creative Director. We hope you will join us for worship in the sanctuary or on the patio, and encourage the team.
Join us outdoors after each service that day for a Life Group Expo. Explore the broad range of Life Groups and Bible Studies available this fall at HTC. Groups will meet live on and off campus, as well as online. Find a group that fits you and sign up to be a part!
HT Kidz, Toddler Nursery, & HT Student Small Groups will resume on Sunday, September 20 at 10:00 AM.