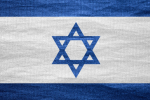 YOU'RE INVITED!
Join us Sunday, December 9, 2018 at 6:00 pm as Christians from the community of faith in Connecticut come together for "Connecticut Celebrates Israel" at Harvest Time Church, 1338 King St, Greenwich, CT 06831. It will be a powerful night of solidarity with the Jewish people, and a wonderful celebration of the nation of Israel!
IN THE MIDST OF CHALLENGES
Israel is facing many challenges in the world right now, and the community of faith in the region will join together on Sunday, December 9 at 6pm to declare our love and support for Israel and the Jewish People. Please mark your calendar right now and plan to join us for this wonderful evening!
In this moment in Israel's history, you do not want to miss this opportunity to add your voice to those of others in this region expressing our love and support for Israel and the Jewish people!
JEWISH & CHRISTIAN COMMUNITIES UNITE
This promises to be an exciting night, with many leaders and members of the Jewish Community present as our special guests. Speakers and guests will include representatives from Israel, as well as civic leaders from the region.
The evening is free and open to the public, and a special offering will be taken for Israel.