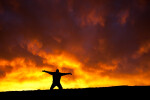 "A fire shall always be burning on the altar; it shall never go out." (Leviticus 6:13)
Join us Friday, May 31st, for Fire In The Night, 12 hours of prayer and worship! At this Fire In The Night we'll be praying for our towns and cities.
Meet with us in the Sanctuary from 6 PM Friday until 6 AM Saturday morning. Enter into the Lord's presence and spend a night with the King! You can come and go at any time; you're free to spend as much time as you can.