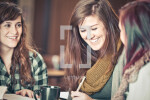 At Harvest Time, our Life Groups will give you many opportunities to grow in friendship and in faith!
You can find a prayer group, a Bible Study, a freedom group, or an interest group of many different kinds. Groups meet throughout the week both at the church and in many different locations around the area. A new semester begins on Sunday, January 12th!
Sign up for Life Groups through our Realm database or through the Realm Connect app.