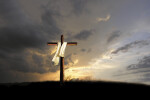 Join us for worship this Easter Season! You're invited to be with us on Good Friday, March 30th, and Easter Sunday, April 1st!

The weekend begins with our Good Friday Worship Celebration in our new sanctuary! Bring a friend as we exalt the name of Jesus with:

• A hope-filled Gospel message
• Anointed worship and musical performances
• Great ministry for kids

Join us for an unforgettable night! Service begins at 7 p.m.

Then, worship with us on Easter Sunday, as our Harvest Time Church Greenwich family celebrates the Risen Lord in two services: 9:00 and 11:00 AM.

• LIVESTREAM: can't make it to church? Watch us at 9 AM and 11 AM at www.htchurchlive.com.

• EGG HUNT: at 9 AM and 11 AM sharp, there's an indoor Easter Egg Hunt for kids in Grades K - 5!

• FELLOWSHIP: enjoy Easter fellowship between 10:30 and 11:00 AM with coffee and refreshments.

• PICTURES: take advantage of several stations set up around the building to take a family photo!

* ONLINE FUN: use the hashtag #NewHTC with us all weekend!

• CHILDREN'S MINISTRIES for kids in Grades K through 5 during both services, and nursery care for infants and toddlers.

• OTHER LOCATIONS: you can also worship at our Stamford Campus at 10 AM at the Palace Theatre.

This Easter, bring a friend who needs to hear the Good News of the Resurrected Christ!