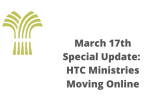 HTC Ministries Moving to Online Platforms Through April 30th
==========

Dear HTC Family,

On Monday, March 16th, Connecticut Governor Ned Lamont issued an Executive Order limiting group meetings to no larger than fifty people. This order is in place through April 30th, unless circumstances change.

In compliance with the Governor's order, HTC will be moving all of our ministries to online platforms through April 30th. Here are some details:

Sunday worship services will be livestreamed at 9 AM & 11 AM. The duration of our online services will not be more than one hour.

Giving: During this unprecedented crisis we would like to ask you to remember your giving to the Lord. HTC still has to carry the all the costs of our new sanctuary even though we are not able to gather in it, right now. Many of our HTC friends already utilize our online giving option. If you have not yet given online, would you prayerfully consider doing so? Click the "Giving" tab at the top of our homepage to register for online giving. If you prefer, you can give by text anytime by texting the word htchurch to the number 73256. You may also mail your offering to HTC, or stop by the office during business hours.

Good Friday and Easter Sunday: These services will be livestreamed, unless the Governor's order is changed. On Good Friday we encourage you to gather your family or a few friends to share Communion along with us during the service.

Wednesday Rangers and Girls' Clubs will not meet at HTC between now and April 30th. Our leaders will reach out to you and your children about connecting on social media to share a devotional, conversation, and prayer time.

HTC Students will not meet at HTC between now and April 30th. Pastor Kurt will reach out to you and your students with information about livestreaming youth services.

Life Groups will be moving to online platforms between now and April 30th. If you participate in a HTC Life Group your leader will contact you about how and when to connect with your group.

HTC Kids will not meet on Sundays between now and April 30th. Pastor Denise and Pastor Kimmie will reach out to you and your children to connect online to share a devotional, conversation, and prayer time.

The HTC Church Offices will remain open during our normal business hours: Monday-Thursday, 9:00 AM - 4:30 PM, and Friday 9:00 AM - 12:00 PM.

Pastoral Care is available to any of our members in need. Our pastors will continue scheduling appointments for counseling and prayer. To schedule an appointment to meet with a pastor, contact the church office by phone at (203) 531-7778 or via email at . To contact a pastor in an emergency, call the Pastor-On-Call line at (203) 340-0316‬.

On March 17, at 8:00 PM, I will be going live on our Harvest Time Church Facebook page to go over these details and to share an encouraging word. Since Sunday, two scriptures have been burning on my heart, and I look forward to sharing them with you.

If you do not follow HTC on Facebook, we hope you will click this link to jump on and "Like" our page, and then join us live at 8 PM.

As we face this unprecedented season together, I want to encourage you to trust the Lord and remain in prayer. We are fervently praying for the Lord's peace, protection and provision over every member of our HTC family!

We will continue to keep you posted via social media and email as we walk through this together.

In His love,
Pastor Glenn