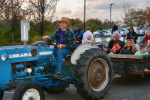 Join us on Wednesday, October 31st at 6:30 PM for this year's Harvest Party! Always one of the highlights of the Fall season, this year there's a heapin' helpin' of fun once again: hayrides, square dancing, face-painting, games and lots more! Make sure you save the date and:
* Dress in country-western outfits
* Bring your best Fall dessert to share with us
* Compete to win an award for Best Dessert
* Enjoy our world-famous Trunk Of Treats
Sign up today by clicking here and let us know whether you can bring candy, host a Trunk Of Treats, make a dessert, or help with set-up or clean-up, crafts, face-painting, etc.
(Please note: adult classes other than Alpha will not be meeting that evening.)