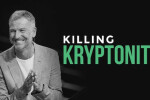 "Killing Kryptonite" on Wednesdays for all adults:
On the Wednesday after Easter, we're offering a new program for adults in the Fellowship Hall: "Killing Kryptonite," from the ministry of John Bevere.
Maybe you know that Kryptonite is the only thing that can hurt Superman. It's his only weakness. Kryptonite isn't real, but but John Bevere will point out that, spiritually speaking, it's very real indeed. We all have weaknesses that keep us from experiencing God's power in our lives.
How do we overcome our weaknesses, and how do we deal with our own, personal kryptonite? Join us after Easter and find out.
Click here today to sign up for Killing Kryptonite! Course begins on Wednesday, April 24th.
==========
New Ladies' Bible Studies begin Monday the 22nd:
There are also new Ladies' Bible Studies beginning the week after Easter. All ladies are welcome to join us as we explore the series "The Armor of God," with Priscilla Shirer. This is a seven-week study that will help us effectively and strategically do battle for ourselves, our marriages, families, dreams and destinies.
We're offering this study at seven different times in the week, and four different locations.
Click here to find the spot that fits you and register for that specific time and location!