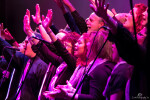 Be with us this Good Friday, April 19th, for a special worship celebration! Bring a friend as we exalt the name of Jesus in a powerful evening featuring:

• A hope-filled Gospel message
• Anointed worship and musical performances
• Great ministry for kids

Join us for an unforgettable night! Service begins at 7 p.m.

To volunteer in any capacity, please contact the Church Office at (203) 531-7778.
We'd also love for you to join us for worship this Easter Sunday! Worship with us as we celebrate the Risen Lord in two services: 9 AM and 11 AM!

• LIVESTREAM: can't make it to church? Watch us at 9 AM and 11 AM at www.htchurchlive.com.
• FELLOWSHIP: enjoy Easter fellowship between 10:30 and 11:00 AM with coffee and refreshments.

• PICTURES: take advantage of several stations set up around the building to take a family photo!

• EGG HUNT: don't miss the biggest egg hunt in town on Saturday, April 13th at 10 AM, featuring 20,000 eggs, plus prizes! Takes place at Roger Sherman Baldwin Park. Free event... get full details here!

• CHILDREN'S MINISTRIES for kids in Grades K through 5 during both services, and nursery care for infants and toddlers.

This Easter, bring a friend who needs to hear the Good News of the Resurrected Christ!