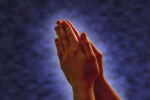 For 21 days beginning Friday, January 7th, please join us in prayer and fasting!
From January 7th through January 27th, would you consider joining us in some expression of fasting? You can fast for a few days, or fast the entire 21 days. It's a powerful way to seek God, and get a "spiritual tune-up" as we head into 2022 together!
To help you understand more about why we fast, and how to start, read this booklet entitled "Questions About Fasting For Today's Believer."