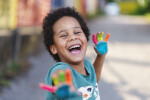 Ministry for children and teens has resumed on Sundays and Wednesdays!
Please note that for the time being, Kids' Ministry will ONLY be available during the 10:00 AM and 11:30 AM services on Sunday morning. Doors open for Kids' Ministry 15 minutes beforehand.
Everyone is requested to obtain free tickets for any children attending our Children's Ministries on Eventbrite (click here for tickets).