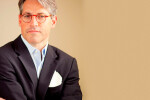 On Sunday, July 3rd, Harvest Time is pleased to welcome internationally renowned author and commentator Eric Metaxas. Eric is a New York Times #1 bestselling author of books such as "Bonhoeffer," "Miracles," and "Amazing Grace." He is also the author of 30 children's books, including the bestseller "Squanto and the Miracle of Thanksgiving." His books have been translated into more than 25 languages.
He is also the host of the Eric Metaxas Radio Show, currently heard in over a hundred cities around the US.
Eric has written and spoken extensively on Christian discipleship, human freedom and religious liberty, and many other important issues of our day, being featured on CNN, Fox News, MSNBC and many other media outlets.
All are welcome to join us on July 3rd. Our service times are 9:00 am and 10:30 am. For more information on Eric Metaxas, please visit: https://ericmetaxas.com/about/.