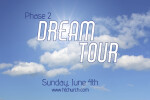 JOIN US!
This coming Sunday morning (June 4) we're taking another walk through our new building during our 8:30, 10:00, and 11:30 AM services!
WHAT'S NEW?
Since our last tour, all the classrooms, meeting spaces, offices, and service areas have been framed; the electrical and plumbing rough-ins are complete; the large HVAC equipment, ducts, and fire sprinklers have been installed; and the glass installation has started. The sound system and the seating for the new sanctuary have been ordered for delivery by the end of summer.
We will also be sharing updates on the construction schedule and new service times in Phase 2.
Don't miss it!