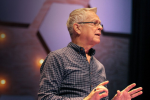 Join us this June as Dr. Randy Clark returns to Harvest Time!
Dr. Randy Clark, overseer of Global Awakening and the Apostolic Network of Global Awakening, is best known for helping spark the move of God now affectionately labeled "the Toronto Blessing." In the years since, his influence has grown as an international speaker. Noted primarily for revival, healing and impartation, Randy's message is simple: "God wants to use you."
In addition to ministering in 50 countries, Dr. Clark has authored or compiled over 40 books and has been featured on numerous Christian television shows and in many publications. Don't miss this tremendous opportunity for teaching, preaching, and impartation!
Please note: while evening sessions and Harvest Time Church Sunday services are free and open to the public, registration is required for all daytime sessions.
Schedule of Events (Subject To Change):
Friday, June 11th
2:30-4:30 PM - Thrill of Victory/Agony of Defeat teaching
7 PM - Healing Service
Saturday, June 12th
10:30-12:30 PM - Baptism in the Spirit/Gifts of the Spirit teaching
2:30-5:00 PM - Impartation
7 PM - Evening Service
Sunday, June 13th
Harvest Time Church regular Sunday services at 8:30, 10:00, & 11:30 AM
(Dr. Clark and/or members of his team ministering in the Sunday services)